Wyld Energy Forecast – 02/15/2021
Are you guys tired of hearing the word Stellium? Well, we have one more week to go! This week we have 3 major events to look forward to.  The First is Saturn Square Uranus.  This means the 2 planets are in conflict.  Uranus being the rebel of the Zodiac and completely dislikes any kind of discpline and structure.  Saturn is the great organizer – and loves rules, organization and keeping things very much logical and on track.  This is a difficult conflict and the energies of it will be felt for a long time to come.  The second event is The Sun Leaving Aquarius and moving towards Pisces.  This will affect us by moving our egos in a place of emotions rather than thought.  And finally, Mercury Retrograde is over on the 20th (YEAH!), but remember the energy always packs a punch when the planet goes retrograde and then again when it goes direct.
The Cards
This week I am using the The Witching Hour Oracle by Cherie Gerhardt.  This is an absolutely stunning deck that allows you to connect with the 12 months of full moon. For each month, there is a Crescent Moon card, a Full Moon Card and a Waning moon card. She also makes beautiful BoS (I myself face 3, that she custom made for me), and you can find out more about her work here.  From her website you can go to her Etsy store where you can purchase her art. Let's get started!
First House – Obstacles to be aware of and don't let them rule you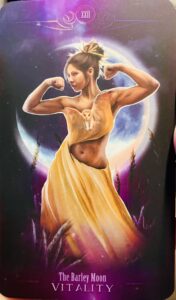 Vitality – Reversed!
"The Waxing Barley Moon represents vitality. Here The Maiden is portrayed healthy, full of exuberant energy, and flexing her muscles in the moonlight. She is surrounded by barley, a hardy grain that has coarse bristles extending from the grain-bearing tip of the Plant. — Cherie Gerhardt"
This card spoke to me about not giving everything our all.  I know that this last year has sucked for many of us, and compancency sets in.  And thoughts like is it worth it? I can't do anything anyway, tend to rob us of our productivity and our desire to do our best on our personal projects.  Keep in mind things will change.  We are not suck in COVID mode forever (at least I hope not!).  Imagine what you could accomplish if you give things your all.  Coming out of this massive season knowing that you made the best possible use of your time is extremely fulfilling! However, for those of us that are recovering from illness, surgery or anything else, be kind to your body.  Listen to your needs and take care of yourself as you would a loved one! Many times we tend to put ourselves last, and this can cause a real strain on your recovery and increase the time before you feel whole again. The message I received with this card is give it your all, whether you are doing it physically or mentally and emotionally!
Second House – Opportunities you may not want to overlook
Protection
The Full Wolf Moon is associated with protection. As the Mother in this card has the instinct to protect the child that is in her womb, it's time to look into yourself and see what may need protection, both physically and spiritually. — Cherie Gerhardt"
This card gave me an immediate information download when I pulled it.  We are so isolated these days, and as humans we are not meant to be that way.  We are reaching out for community the only way we can, in social media.  I see people sharing very personal things on social media and we really need to think about who want to share that information with.  If you are a spiritualist and do ceremony work, don't share your complete ceremony altar, unless it is a public ceremony.  Keep in mind that not everyone on the receiving end is your friend or even open to what you do.  Emotions are running very high right now, and there is a lot of energy moving back and forth.  Protect yourself and your family so that when this pandemic ends, you can once again step back into whatever normal life will look like at that point.  This also speaks to extending your protection to others – family, friends and other loved ones.  People may not be very vocal about needing help.  If you happen to be in a good place, reach out to those around you and just ask if they need help.  Asking can make a huge impact and make people feel like they matter, and that they are not alone.  Two weeks ago, we received guidance to reach out to reconnect with our spirit helpers.  Now, it's time to reach out and ask for help and protection if you need it!
---
---
Our Energy forecast Podcast for 02/15/2021
---
Helpful Products for this week
[shop_featured_listings]