Since we have just received a huge shipment of this beautiful stone, we wanted to share with you some cool facts about it!
Celestite is found worldwide, but in small quantities.  Although most of the time we associate it with the color blue, it can also be white, orange, colorless, green or grey – sometimes you can see all colors in the same crystal!  The largest blue Celestite geodes come from Madagascar,  but one of the largest geodes of Celestite in the world is located in the Put-in-bay cave in Ohio!
Celestite contains the metal Strontium, which is used to make fireworks.  Celestite often grows together with Barite and the two can be almost indistinguishable (although Barite is heavier).  Celestite is a sedimentary rock, which forms as layers upon layers of earth and rock lay on each other.  For this reason celestite is mostly found in sandstone and limestone deposits.  Celestite is generally considered a hydrothermal crystal which means it requires heat and water to form.
Energetically, Celestite is a strong crystal for communicating with your spirit guides or archangels.  It is a wonderful stone to improve mediumship abilities and meditation.  It can also be used to bring peace and calm after a hectic day.  Because of how Celestite is formed, it is strongly associated with the water element.
This crystal makes a perfect addition to a reading room, meditation room, yoga space or even personal altar.  Celestite promotes peace and harmony and is also excellent for those experiencing difficult emotional traumas.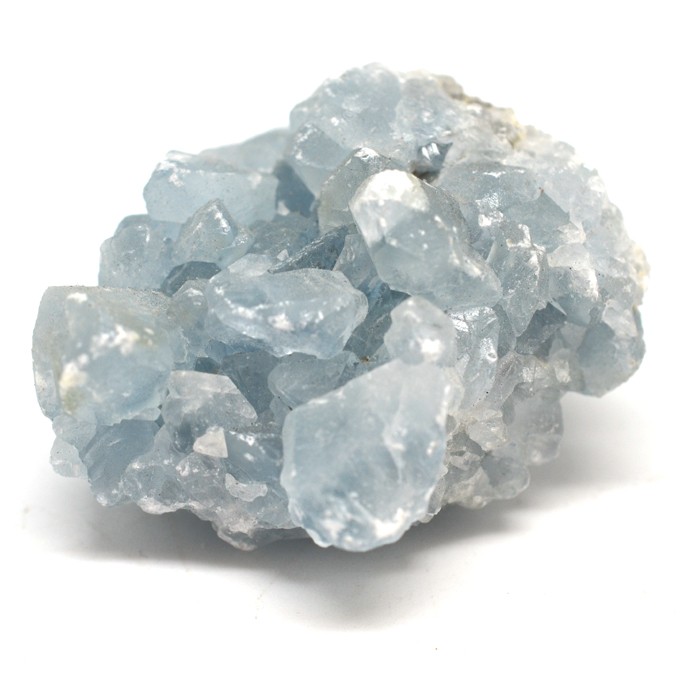 We have some beautiful pieces in stock! Come get yours today!