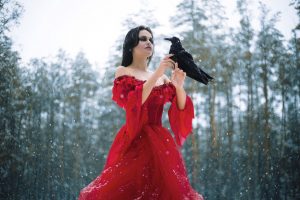 Lady Raven is a Third Degree HPS, who has been practicing in a coven environment for over 12 years.  In 2004 she joined the Coven of the Southfire Dragon (COTSFD).  She was trained Lady Draekaa, HPS who was the head of that coven in Concord, NC.  Lady Raven reached her third degree in 2008, and participated as an elder in the COTSFD.  In 2009, the COTSFD relocated to Vermont, and at this time Lady Raven started her own coven,  The Coven of the Blue Moon Dragon (COTBMD) in Charlotte, NC.  In 2012, the COTBMD moved to York, SC.  Both the COTSFD and the COTBMD followed the Wyvern Moon Tradition of Wicca.  The Wyvern Moon Tradition was an eclectic tradition, with strong influences from the Gardnerian tradition, Modern Paganism and British Isles Paganism.
Lady Raven left the Wyvern Moon Tradition in 2016, in order to expand her spiritual practice in Voudou and Shamanism.  In 2019 she has joined forces with Lady Wyntyr and they have co-founded a new witchcraft Tradition called Ignis Spirae.  The The Ignis Spirae Tradition of Witchcraft, incorporates elements of Traditional Witchcraft, Modern Paganism and different forms of Shamanism.  This new tradition has a strong focus on inner development, spiritual growth and community work.
The Ignis Spirae Tradition currently has 2 covens.  The Coven of the Crossroads, led by Lady Wyntyr in Charlotte, NC and the Coven of the Wyld Moon, led by Lady Raven in Rock Hill, SC.  Both covens are currently accepting outer court seekers.  If you are interested in becoming a seeker, your best bet is to begin with taking either the Fundamentals of Witchcraft Class by Lady Raven or the Dedicant Class by Lady Wyntyr.  You can sign up for either class below:
Lady Wyntyr (Coven of the Crossroads): Tree of Live Evolution
Lady Raven (Coven of the Wyld Moon): TheWyldWitch.com
The Coven of the Wyld Moon
The Coven of the Wyld Moon focuses on Shamanic Witchcraft.  We are primarily an online coven, meeting monthly via zoom to discuss our current spiritual development and to support each other.  All members in the outer court are welcome to continue to participate online.  If you are local, we will meet for some Sabbats for in-person ritual. However this is not required.
If you decide to begin an initiatory practice, once you are ready be sure to contact Lady Raven.  You and her can work together to determine whether initiatory practice is for you and the requirements needed to make sure you are ready for this practice and growth.  All initiations and dedications MUST take place in person – there are no exceptions to this rule.  Generally initiations take place over a weekend, in a retreat format.
Your first step before you petition is to complete the Fundamentals of Shamanic Witchcraft Class here: